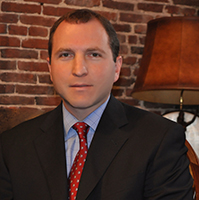 James A. Swartz is a nationally known and respected trial attorney and consumer advocate. Mr. Swartz' law practice is headquartered in the historic John and Ebenezer Hancock House on the Freedom Trail in Boston, Massachusetts. Mr. Swartz graduated cum laude from Tufts University and earned his J.D. at Georgetown University Law Center. Mr. Swartz is a member of Trial Lawyers for Public Justice, serving as Massachusetts State Coordinator; The Massachusetts Bar Association; The Massachusetts Academy of Trial Attorneys; The American Bar Association; and The Boston Bar Association, among many other associations.
James Swartz is a dedicated consumer advocate. For years, Mr. Swartz, along with Edward Swartz and World Against Toys Causing Harm, Inc. (W.A.T.C.H.), has issued an annual "10 Worst Toys" list to alert parents and other consumers to the dangers of unsafe toys. For several years, James Swartz has been responsible for an annual press conference to alert the media and public to unsafe toy hazards. Articles about James Swartz and the W.A.T.C.H. press conference have appeared in newspapers and other print media throughout the country. Mr. Swartz provided research and editorial assistance for Toys That Kill (Vintage Books/Random House 1986), a book on toy safety authored by Edward Swartz. He is a director and founding member of W.A.T.C.H., a non-profit organization dedicated to children's causes and committed to the creation of multidimensional education programs, including "TOYS, YOU and the REAL WORLD", a bilingual educational curriculum which has been taught in public schools in several states.
James Swartz has appeared on such national television programs as "The Doctors", "Take It Personally" on CNNfn, "Newsfront" on MSNBC, "Legal Cafe" on COURT TV, "Crook and Chase" on the Nashville Network (TNN), interview on BLOOMBERG BUSINESS NEWS television network, and in news reports on CNN, and other national news networks. Mr. Swartz has also appeared on many regional television programs, including shows on the New England Cable News Network and Boston area network affiliates. Mr. Swartz has been interviewed on UPI, CBS, USA, CNN and TALK AMERICA Radio Networks, as well as many regional radio news programs.